Check Point 1430 Wireless Security Appliance

Branch and small office security with a Wi-Fi option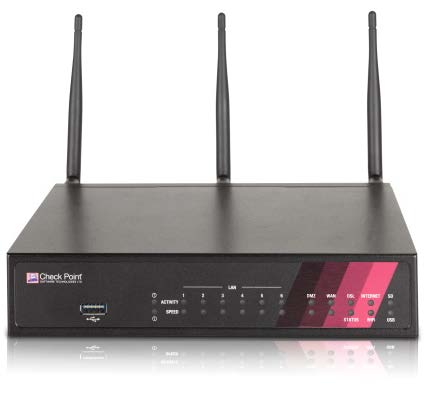 Sorry, this product is no longer available, please contact us for a replacement.
Overview:
The Branch Office Challenge
In the age of global business and a more distributed workforce, remote and branch staff demand access to corporate resources in order to work effectively and efficiently. However, even a small data breach can expose companies to crippling lawsuits, penalties and loss of reputation. Branch offices need an inexpensive, yet effective solution to provide secure access to critical resources from anywhere, while minimizing the risk of a data breach.
Our Solution
The Check Point 1400 Appliance family is a simple, affordable and easy to deploy all-in-one solution for delivering industry leading security to protect the weakest link in your enterprise network—the remote branch offices. Protect against cyber threats with Check Point Threat Prevention all in a quiet, compact desktop form factor.
Access Control
Threat Prevention
VPN
Firewall
Application Control
URL Filtering
User Awareness
IPS
Antivirus
Anti-Bot
Anti-Spam
Remote Access
Site-to-Site
Setup is done in minutes using our step-by-step configuration wizard. The 1400 Appliances are manageable centrally by means of the Check Point enterprise Security Management or Multi-Domain products.
Available in two appliances, the 1430/1450 and the 1470/1490, these appliances come standard with eight (8) 1-Gigabit or sixteen (16) Ethernet ports respectively. Connect securely from any device direct or through secure authenticated Wi-Fi. The Wi-Fi can even be partitioned separating guest from employee access. Network settings allow for URL and application filtering by employee function, and secure communications between offices is accommodated with VPN. Remote access encrypts data traffic whether you are on the road or in the office. The 1400 Appliances offer monitoring of network traffic by user and easily generate activity reports and logs.
Product Benefits
All-in-one protection against viruses, spam, bots, dangerous applications and malicious websites
Continuous security updates from ThreatCloud TM
Fast set-up, instant protection
Secure remote access for your mobile worker
Easy to understand usage reports
Multiple management options to address any organization's needs

Simplified web-based Local Management
Centralized with our enterprise Security Management or Multi-Domain Management products
Product Features
Highest ranked Next Generation Firewall
Profile-based management designed for large-scale deployments
Multiple internet access options including support of external 3G/4G/LTE modem
Integrated 802.11ac wireless security with guest access
Key Features:
Big security in a compact footprint
Fully integrated next-generation threat prevention including: firewall, IPS, IPsec VPN, application control, anti-spam, antivirus, anti-bot, URL filtering, email security, and user awareness
Continuous security updates from Check Point ThreatCloud™
Compact and quiet desktop form factor
Easy to deploy, centrally managed
Rapid deployment via an intuitive, web-based management interface and pre-defined security policies
Large scale, profile-based central management for maintaining hundreds of devices
Extensible security tailored for small and branch offices
Optimized to deliver up to 1800 Mbps of real-world firewall throughput and up to 220 Mbps of real-world threat prevention throughput
Flexible Internet access options include 1GbE copper or fiber ports and support for external 3G/4G/LTE wireless modems
Up to 18 1GbE ports and 802.11ac Wi-Fi connectivity
Features
All-inclusive threat prevention security without compromise
Branch offices are ripe targets for cyber criminals looking for unrestricted access to corporate networks: the fact that they are smaller offices doesn't mean they are smaller targets. This is why the Check Point 1400 appliances are based on the same industry-leading threat prevention technology that is used to secure Fortune 100 organizations, optimized on an enterprise-grade chassis for maximum performance.
Comprehensive security protections include firewall, VPN, IPS, antivirus, anti-bot, application visibility and control, SSL encrypted traffic inspection, URL filtering, and email security—all in a quiet, compact desktop form factor. What's more, the 1400 appliances receive continuous updates from Check Point ThreatCloud™, providing maximum protection against the latest threats and malicious activity.
Flexible connectivity, high port density
The 1400 appliances are built to accommodate maximum flexibility for greater productivity in today's enterprise branch offices. Flexible connectivity options include:
Up to 18 1Gbps Ethernet ports
USB 3.0 ports supporting external 3G/4G/LTE modems for additional WAN connectivity and redundancy
Integrated 802.11ac Wi-Fi supporting WPA and WPA2 authentication as well as secure guest access
Rapid setup and configuration
Bringing advanced threat prevention security to every business location has traditionally been prohibitive due to a lack of dedicated IT staff and resources at branch offices. The Check Point 1400 appliances are designed to be easy to deploy and use—even for non-technical staff. Initial setup is performed through an easy-to-use management interface, and configuration is a snap with a simple yet powerful start-up wizard, allowing the 1400 appliances to be deployed in minutes.
Local and central management options
The Check Point 1400 appliances are as easy to manage as they are to deploy, whether you have technical staff on hand or not. The intuitive, web-based management interface allows for comprehensive on-site management and reporting of all security activity. Branch deployments can also be centrally managed with Check Point enterprise security management or multi-domain management products, enabling organizations to define a consistent security policy and device profile for thousands of 1400 appliances.
Technical Specifications: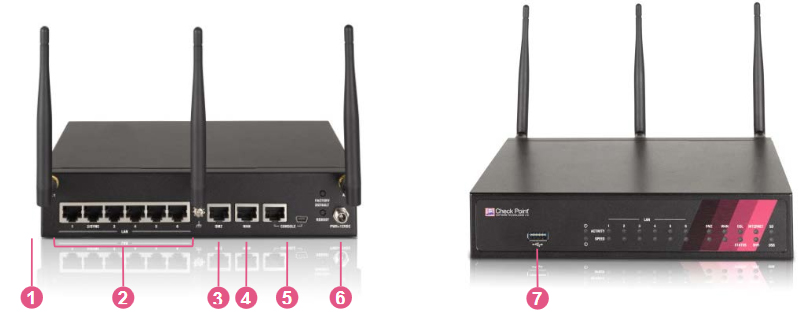 1430/1450 (Wi-Fi option)
802.11n/ac wireless (optional)
6 x 1 GbE LAN ports
1 GbE DMZ port
1 GbE WAN port
RJ-45/micro USB Console port
12V power connector
USB port
Check Point 1430 and 1450 Appliances Overview

1470/1490 (Wi-Fi option)
802.11n/ac wireless (optional)
12 of 16 x 1GbE LAN ports
4 of 16 1GbE LAN ports
1 1GbE WAN port
1 1GbE copper/fiber DMZ port
12V power connector
2 USB ports
RJ-45/micro USB Console port
Check Point 1470 and 1490 Appliances Overview
1430
1450
1470
1490
Production Performance (Real-World Traffic Blend) 1
SecurityPower
75
141
194
233
Firewall throughput (Mbps)
900
1100
1600
1800
Threat prevention (Mbps)
90
150
175
220
Ideal Testing Conditions Performance (RFC 3511, 2544, 2647, 1242)
Firewall UDP 1518 byte (Mbps)
2000
2500
3200
4000
Connections per second
18K
25K
30K
40K
Concurrent connections
500K
500K
500K
500K
VPN AES-128 (Mbps)
250
500
500
1000
WAN
1X 1 GbE
Copper
1X 1 GbE
Copper
DMZ
1X 1 GbE
Copper
1X 1 GbE
Copper
LAN
6x 1GbE
16x 1GbE
DSL (optional)
VDSL22
VDSL22
Wi-Fi (optional)
802.11 b/g/n/ac MIMO 3x3
802.11 b/g/n and 802.11 n/ac MIMO
Radio band
2.4GHz or 5GHz
2 concurrent
2.4Ghz and 5Ghz
USB ports
1
2
SD Card Slot
1 (Micro SDHC)
1 (Micro SDHC)
3G/4G modem support
Yes, see sk92809
Yes, see sk92809
Mounting
Desktop and rack
Desktop and rack
AC
100-240V, 50 - 60 Hz
Dimensions (WxHxD)
210 x 42.5 x 155 mm
210 x 42.5 x 200.5 mm
Weight
1.3 kg
1.6 kg
Operating environment
0° to 40°C
0° to 40°C
1performance with a real-world traffic blend, a typical rule-base, NAT and logging enabled and the most secure threat prevention
2 available in H2 2016
Software Specifications
Software Blade
NGTP
Firewall
Identity Awareness
IPSec VPN
Advanced Networking & Clustering
Mobile Access ¹
IPS
Application Control
URL Filtering
Antivirus
Anti-Spam & Email Security
Anti-Bot
NGTP = Next Generation Threat Prevention
1 SSL VPN Portal is not supported
Pricing Notes:
Pricing and product availability subject to change without notice.