Check Point 5900 Security Appliance

Small enterprise and branch office security

Sorry, this product is no longer available, please contact us for a replacement.
Click here to jump to more pricing!
Overview:
The Check Point 5900 appliance combines the most comprehensive security protections to safeguard your mid-size enterprise. The 5900 is a 1U appliance with two I/O expansion slots for higher port capacity, redundant fans and a redundant power supply option, a 500 GB hard disk, and Lights-Out Management (LOM) for remote management. This powerful security appliance is optimized to deliver real-world threat prevention to secure your critical assets and environments.
Comprehensive Threat Prevention
The rapid growth of malware, growing attacker sophistication and the rise of new unknown zero-day threats require a different approach to keep enterprise networks and data secure. Check Point delivers fully integrated, comprehensive Threat Prevention with award-winning SandBlast™ Threat Emulation and Threat Extraction for complete protection against the most sophisticated threats and zero-day vulnerabilities.
Service Specification
 Production Performance
 Test (LAB) Performance
1U rack mountable.
Up to 26x1GbE ports or 8x10GbE ports.
Up to 16GB of Memory. Telescopic rails.
1750 SecurityPower*
22 Gbps Firewall Throughput
1 Gbps NGTP Throughput
35 Gbps Firewall Throughput (1518 byte UDP)
VPN throughput (AES-128)
3.2 Million / 6.4 Million with Extended RAM (HPP) Concurrent connections
Product Benefits
Enable the most advanced threat prevention security
Optimal performance even when inspecting SSL encrypted traffic
Future-proofed technology safeguards against tomorrow's risks
Centralized control and LOM improves serviceability
High performance package optimizes platform performance
Modular, expandable chassis with flexible I/O options
Product Features
Simple deployment and management
Secure remote access to corporate resources from a wide variety of devices
One network expansion slot to add port density, fiber and fail-open IO card options
Redundant appliance clustering technologies eliminate a single point of failure
Key Features:
The most advanced threat prevention security
Comprehensive protections include firewall, IPS, application control, anti-bot, antivirus, URL filtering, and the award-winning sandboxing technology in Check Point SandBlast Zero-Day Protection
Next Generation Threat Prevention package provides uncompromising protection against known threats
SandBlast threat prevention provides the most advanced protections against unknown threats, vulnerabilities, and zero-day attacks
Complete protection without compromise
Hardware and software optimized to deliver full advanced threat prevention security, including inspecting SSL encrypted traffic
Up to 1,000 Mbps of real-world threat prevention throughput
Up to 22 Gbps of real-world firewall throughput
Modular, expandable chassis design
Optional redundant power supplies reduce single points of failure
Centralized control with Lights-Out-Management (LOM) for enhanced serviceability
Flexible I/O with a 40 Gigabit Ethernet (GbE) option
The Check Point 5000 appliances offer comprehensive and consolidated security available in two packages:
Next Generation Threat Prevention (NGTP): prevent sophisticated cyber threats with IPS, application control, antivirus, anti-bot, URL filtering, and email security
SandBlast Threat Prevention (NGTX): advanced next-generation zero-day threat prevention—NGTP with Threat Emulation and Threat Extraction
Prevent unknown threats
The 5000 appliances are built to protect branch offices to midsize enterprises from both known and unknown threats with antivirus, anti-bot, SandBlast Threat Emulation (Sandboxing), and SandBlast Threat Extraction technologies.
As part of the Check Point SandBlast Zero-Day Protection solution, the cloud-based Threat Emulation engine detects malware at the exploit phase, even before hackers can apply evasion techniques attempting to bypass the sandbox. Files are quickly quarantined and inspected, running in a virtual sandbox to discover malicious behavior before it enters your network. This innovative solution combines cloud-based, CPU-level inspection and OS-level sandboxing to prevent infection from the most dangerous exploits and zero-day and targeted attacks.
In addition, SandBlast Threat Extraction removes exploitable content, including active content and embedded objects, reconstructs files to eliminate potential threats, and promptly delivers sanitized content to users to maintain business flow.
Optional high-performance package
Customers with high connection capacity requirements can purchase the affordable High-Performance package. This includes the appliance plus one interface card with transceivers and Lights-Out-Management.
Flexible connectivity options
High-speed connectivity is essential to meeting the needs of today's enterprise networks. That's why the 5000 appliances are built to provide maximum port density and flexible connectivity in a compact, single rack unit form factor, including support for 4x1GbE,  4x10GbE (5600 and 5800) as well as 2x40GbE (5800).
Remote management and monitoring
An optional LOM card provides out-of-band remote management to diagnose, start, restart, and manage the appliance from a remote location. Administrators can also use the LOM web interface to remotely install an OS image from an ISO file.
A reliable, serviceable platform
The Check Point 5000 appliances deliver business continuity and serviceability through optional features such as hot swappable redundant power supplies as well as advanced Lights-Out-Management (LOM) for out-of-band management. In combination, these features ensure a greater degree of business continuity and serviceability for customer networks.
Integrated Security Management
Every Check Point appliance can be managed either locally via its available integrated security management or centrally via unified management. An intuitive, web-based administration interface provides local management of up to two 5000 appliances for high-availability deployments.
Technical Specifications: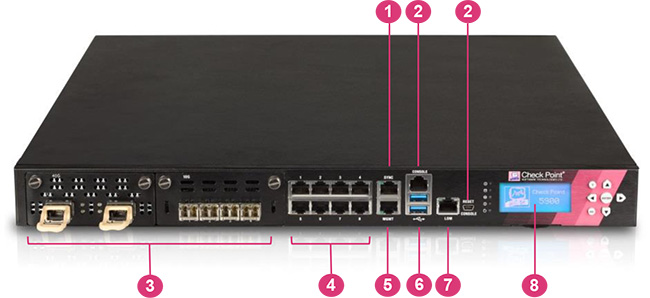 5900 Security Appliance
Sync 10/100/1000Base-T RJ45 port
RJ45/micro USB console port
Two network card expansion slots
8x 10/100/1000Base-T RJ45 ports
Management 10/100/1000Base-T RJ45 port
2x USB 3.0 ports for ISO installation
Lights-Out Management port
Graphic LCD display
Appliance
5200
5400
5600
5800
5900
Production Performance (Real-World Traffic Blend) 1
Security Power
425
600
950
1750
2400
Firewall Throughput (Gbps)
5.3
10
17.5
22
26
IPS throughput (Gbps)
810 Mbps
1.08
1.9
3.05
4.36
NGFW throughput (Gbps)
520 Mbps
690 Mbps
1.18
2
2.84
Threat prevention (Gbps)
250 Mbps
330 Mbps
540 Mbps
1
1.65
Ideal Testing Conditions Performance (RFC 3511, 2544, 2647, 1242)
Firewall, 1518 byte UDP (Gbps)
16
22
25
35
52
Connections per Second (K)
125
150
185
185
185
Concurrent Connections (M)2
3.2/6.4
3.2/6.4
3.2/6.4
3.2/6.4
3.2/12.8
VPN AES-128 Throughput (Gbps)
1.88
2.16
6.5
10
10.2
IPS throughput (Gbps)
3
3.9
7.8
10
13.5
NGFW throughput (Gbps)
2.7
3.4
5.8
8.1
11.4
Virtual Systems
VS Supported (Default/Max)2
10/20
10/20
10/20
10/20
10/20
Hardware Specifications (Default/Max)
10/100/1000Base-T Ports
6/14
10/18
10/18
10/26
10/26
1000Base-F SFP Ports
0/4
0/4
0/4
0/8
0/8
10GBase-F-SFP+ Ports
0/0
0/0
0/4
0/8
0/8
40GBase-F SFP+ Ports
0/0
0/0
0/0
0/4
0/4
Memory
8 ,16
8, 16
8, 16, 32
8, 16, 32
8, 16, 32
Storage
1x 500 GB
1x 500 GB
1x 500 GB
1x 500 GB
1x or 2x 500GB HDD or 480GB SSD
I/O Expansion Slots
1
1
1
2
2
Lights-Out-Management
Optional
Optional
Optional
Included
Included
Dimensions
Enclosure
1U
1U
1U
1U
1U
Dimensions (standard wxdxh)
17.24 x 16.01 x 1.73 in.
17.24 x 16.01 x 1.73 in.
17.24 x 20 x 1.73 in.
17.24 x 20 x 1.73 in.
17.24 x 20 x 1.73 in.
Dimensions (metric wxdxh)
438 x 406.55 x 44 mm
438 x 406.5 x 44 mm
438 x 508 x 44 mm
438 x 508 x 44 mm
438 x 508 x 44 mm
Weight
6.22kg (13.7 lbs)
6.37kg (14 lbs)
7.95kg (17.53 lbs)
8.37kg (18.45 lbs)
10kg (22.05 lbs)
Environment
Operating Environment
0°C - 40°C at 5 - 95% relative humidity
Non-Operating Environment
(-20)°C - 70°C at 5 - 95% relative humidity
Power
Dual, Hot-Swap Power Supplies
NA
NA
Optional
Optional
Optional
Power Input
90 - 264VAC (47-63HZ)
Single Power Supply Rating
250W
250W
275W
275W
500W
Power Consumption (Max)
62.9W
76.5W
103W
110W
165W
Certifications
Safety
UL60950-1, CB IEC60950-1, CE LVD EN60950-1, TUV GS
Emissions
CE, FCC, VCCI, RCM/C-Tick
Environmental
RoHS II, *REACH, *ISO14001
1assumes maximum production throughput with real-world traffic blend, a typical rule-base size, NAT and logging enabled and the most secure threat prevention protection
2 performance measured with default/maximum memory
Software Blade
NGTP
NGTX
Firewall
Identity Awareness
IPSec VPN
Advanced Networking & Clustering
Mobile Access 1
IPS
Application Control
URL Filtering
Antivirus
Anti-Bot
Anti-Spam & Email Security
Threat Extraction
*
Threat Emulation
*
DLP
*
*
Management Blades
Network Policy Management
Logging and Status
SmartEvent
*
*
SmartWorkflow
*
*
Monitoring
*
*
Management Portal
*
*
User Directory
*
*
SmartProvisioning
*
*
SmartReporter
*
*
Endpoint Policy Management
*
*
Compliance
*
*
NGTP  = Next Generation Threat Prevention; NGTX  = SandBlast Threat Prevention;
- Included
* - Optional
1 Five users are included in default package
Pricing Notes:
Pricing and product availability subject to change without notice.