Check Point 750 Security Appliance

Reliable Security with a Predictable Cost

Sorry, this product is no longer available, please contact us for a replacement.
Overview:
The Small Business Challenge
Growing both quickly and safely can be difficult for small businesses. As a small business you worry about survival and as you grow to a medium size you worry about dozens of issues; from continuing to grow your products to sales, from protecting your customers to beating your competition to market. You want a secure network but how many people can you justify in your IT department? Security does not have to mean a large IT staff.
Our Solution
The Check Point 700 Appliances deliver enterprise-grade security in a simple, affordable, all-in-one security solution to protect small business employees, networks and data from cyber-theft. This one device offers integrated, multi-layered security; Firewall, VPN, IPS, Antivirus, Anti-Bot, Application Visibility & Control, URL Filtering and Email Security — all in a quiet, compact desktop form factor. The 700 Appliance runs the same industry-leading security that is used to secure Fortune 100 companies.
Access Control
Threat Prevention
VPN
Firewall
Application Control
URL Filtering
User Awareness
IPS
Antivirus
Anti-Bot
Anti-Spam
Remote Access
Site-to-Site
Setup can be done in minutes using re-defined security policies and our step-by-step configuration wizard. Check Point 700 Appliances are conveniently manageable both locally via a Web interface and centrally by means of the Check Point Security Management Portal (SMP).
All 700 Appliances come standard with eight (8) 1-Gigabit Ethernet ports. Connect securely from any device direct or through secure authenticated Wi-Fi. The Wi-Fi can even be partitioned separating guest from employee access. Network settings allow for URL and application filtering by employee function, and secure communications between offices is accommodated with VPN. Remote access encrypts data traffic whether you are on the road or in the office. The 700 Appliances offer monitoring of network traffic by user and easily generate activity reports and logs.
Product Benefits
All-in-one protection against viruses, spam, bots, dangerous applications and malicious websites
Continuous security updates from ThreatCloud TM
Fast set-up, instant protection
Secure remote access for your mobile workers
Easy to understand usage reports
Cloud management provides security experts without the staffing overhead
Product Features
Highest ranked Next Generation Firewall
Simple and intuitive management for small businesses
Multiple internet access options including support of external 3G/4G/LTE modem
Integrated 802.11ac wireless security with guest access
Key Features:
Advanced security for small business
Secures against malware, spam and dangerous applications and websites
Uncompromising performance
Delivers Internet speeds up to 200 mbps of real world throughput
Maintains full Internet performance, even as features are enabled
Simple
Designed to be simple without dedicated IT security
Intuitive web-based management allows configuration within minutes
Simplify security management with optional Managed Security Services
Advanced firewall and threat protection
Small companies face the same Internet attacks as large enterprises.  The Check Point 700 series appliances have the industry's highest-ranked next generation firewall, antivirus, anti-bot, IPS and threat prevention security technologies to deliver protection against cyberattack.  Protect your company from modern-day threats with Check Point enterprise grade security in a simple product designed for SMB.
Comprehensive protection suite
The Check Point 700 series appliances leverage the same Software Blade Architecture to protect any small office environment:
Next generation firewall
Application Control
VPN
URL Filtering
IPS
Antivirus
Anti-Bot
Anti-Spam
Powerful hardware
The 700 series appliances come standard with 6 x 1Gbps Ethernet ports.  Standard integrated Wi-Fi access provides Internet access for laptops and BYOD devices.
200 Mbps threat prevention throughput
Wireless 802.11ac included with each model
Multiple Internet access options including 3G/4G/LTE modem
Easy out-of-box configuration and management
The Check Point 700 series appliances are simple to manage by small companies with limited IT staff and can be configured and deployed within minutes.
Configurable within minutes and requires minimal IT security knowledge
Simple web-based local management interface
Powerful and automated reporting and easy to understand logs
Technical Specifications: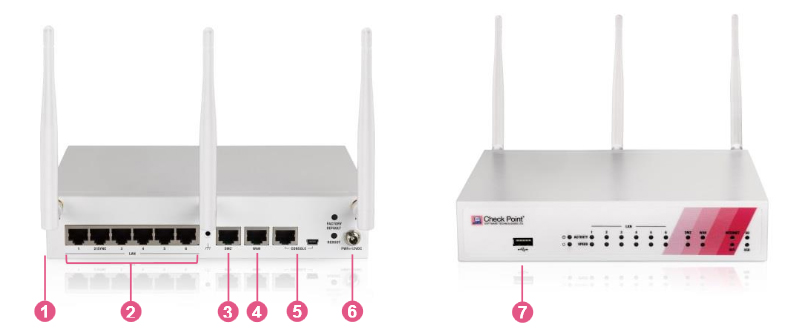 700 (Wi-Fi option)
802.11n/ac wireless (optional)
6 x 1 GbE LAN interfaces
1 GbE DMZ interface
1 GbE WAN interface
RJ-45/micro USB Console port
12V power connector
USB port
Check Point 700 Appliance Demo
730
750
Performance (Real-World Traffic Blend) ¹
SecurityPower ¹
75
141
Firewall Throughput (Mbps)
750
1000
Threat Prevention (Mbps)
100
200
Performance (Lab RFC 3511, 2544, 2647, 1242 Tests)
Firewall UDP 1518 Byte Packets (Mbps)
2,000
4,000
VPN AES-128 Throughput (Mbps)
250
500
Connections per Second
15,000
25,000
Concurrent Connections
400,000
400,000
Mobile Access (concurrent users)
100
100
Hardware
WAN
1x 10/100/1000Base-T RJ-45 port
DMZ
1x 10/100/1000Base-T RJ-45 port
LAN Switch
6x 10/100/1000Base-T RJ-45 ports
Wi-Fi Option
802.11 a/b/g/n/ac MIMO 3x3
Radio band
1 Band: 2.4Ghz/5Ghz
Console Port
1x RJ-45, 1x Mini USB
USB Port
1x USB 3.0
SD Card Slot
Micro SDHC slot
3G/4G Modem Support
Yes
Dimensions
Enclosure
Desktop
Dimensions WxHxD
210 x 42.5 x 155 mm, 8.3 x 1.7 x 6.1 in.
Weight
1.3 kg (2.8 lbs.)
Environment
Operating Environment
0ºC ~ 40ºC
Storage Environment
-45ºC ~ 60ºC (5~95%, non-condensing)
Power Requirements
AC Input
110 – 240V, 50 – 60 Hz
Power Supply Rating
12V/3.33A 40W desktop adaptor
Power Consumption (Max)
25W (non-Wi-Fi), 30W (Wi-Fi option)
Heat Dissipation
85.3 BTU/hr (non-Wi-Fi), 102.4 BTU/hr (Wi-Fi option)
Certifications
Safety
UL/c-UL / IEC 60950 CB
Emissions
EMC: EN55022 Class B / FCC: Part 15 Class B
Environment
RoHS
¹ performance measured with a real-world SMB HTTP traffic blend, a typical rule-base, NAT, logging and the most secure threat
Software Blade
NGTP
Firewall
Identity Awareness
IPSec VPN
Advanced Networking & Clustering
Mobile Access ¹
IPS
Application Control
URL Filtering
Antivirus
Anti-Spam & Email Security
Anti-Bot
NGFW = Next Generation Firewall; NGTP = Next Generation Threat Prevention ¹ SSL VPN Portal is not supported