Check Point 15400 Security Appliance

Large enterprise security, performance and reliability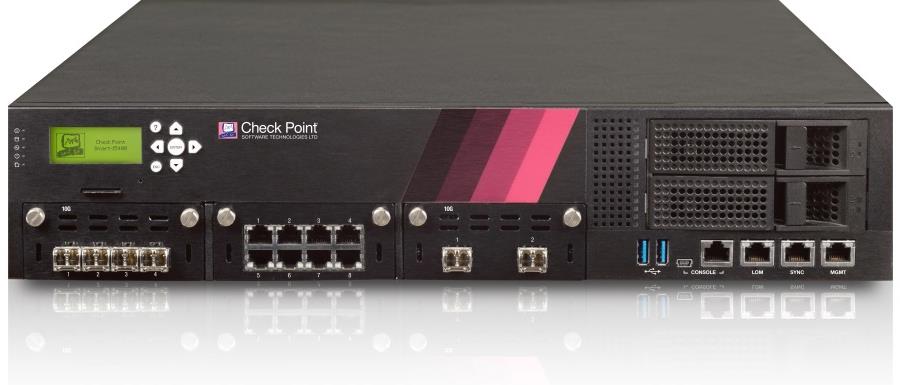 Sorry, this product is no longer available, please contact us for a replacement.
Click here to jump to more pricing!
Overview:
Today's enterprise networks and data centers need comprehensive security protections in a scalable, easy to manage configuration. The Check Point 15000 security appliances are designed for high performance, reliability and uncompromising security to combat even the most sophisticated threats, making them ideal for enterprise and data center environments.
Benefits
The most advanced threat prevention security
Comprehensive protections including firewall, IPS, Application Control, Anti-Bot, AntiVirus, URL Filtering and the award-winning sandboxing technology in Check Point SandBlast
Next Generation Threat Prevention package provides uncompromising protection against known threats
SandBlast Threat Prevention provides the most advanced protections against unknown threats, vulnerabilities and zero-day attacks
Complete protection without compromising performance
Hardware and software optimized to deliver full advanced threat prevention security, including inspecting SSL encrypted traffic
Up to 2.2 Gbps of real-world threat prevention throughput
Up to 28 Gbps of real-world firewall throughput
Modular, expandable chassis design
Redundant components such as power supplies, fans and hard drives eliminates downtime
Centralized control with Lights-Out-Management (LOM) for enhanced serviceability
High performance package options optimize platform performance
Flexible I/O options with a 40 Gigabit Enternet (GbE) option
Key Features:
Check Point 15000 Appliances offer a complete and consolidated security solution available in two complete packages:
Next Generation Threat Prevention (NGTP): prevent sophisticated cyber threats with IPS, Application Control, Antivirus, Anti-Bot, URL Filtering and Email Security
SandBlast Threat Prevention (NGTX): advanced next-gen zero-day threat prevention, NGTP with Threat Emulation and Threat Extraction
Prevent unknown threats
The 15000 appliances protect organizations from both known and unknown threats with Antivirus, Anti-Bot, SandBlast Threat Emulation (sandboxing), and SandBlast Threat Extraction technologies.
As part of the Check Point SandBlast Zero-Day Protection solution, the cloud-based Threat Emulation engine detects malware at the exploit phase, even before hackers can apply evasion techniques attempting to bypass the sandbox. Files are quickly quarantined and inspected, running in a virtual sandbox to discover malicious behavior before it enters your network. This innovative solution combines cloud-based CPU-level inspection and OS-level sandboxing to prevent infection from the most dangerous exploits, and zero-day and targeted attacks.
Furthermore, SandBlast Threat Extraction removes exploitable content, including active content and embedded objects, reconstructs files to eliminate potential threats, and promptly delivers sanitized content to users to maintain business flow.
Inclusive high-performance package
Customers with high connection capacity requirements can purchase the affordable high-Performance package. This includes the appliance plus one 4x 10Gb SFP+ interface cards, transceivers and additional memory for high connection capacity.
A reliable serviceable platform
The Check Point 15000 appliance delivers business continuity and serviceability through features such as hot swappable redundant power supplies, hot-swappable redundant hard disk drives (RAID), redundant fans and an advanced LOM card for out-of-band management. Combined together, these features ensure a greater degree of business continuity and serviceability when these appliances are deployed in the customer's networks.
Remote management and monitoring
A Lights-Out-Management (LOM) card provides out-of-band remote management to remotely diagnose, start, restart and manage the appliance from a remote location. Administrators can also use the LOM web interface to remotely install an OS image from an ISO file.
40GbE Connectivity
High speed connections are essential in modern data center environments, especially those with high-density virtualized servers. If you're ready to move from 10 to 40 GbE, so are the 15000 Appliances. The Check Point 15000 Appliances let you connect your 10 GbE server uplinks to your 40 GbE core network with up to 4x 40 GbE ports.
Technical Specifications:

Appliance
15400
15600
Performance
SecurityPower
2600
3850
Firewall Throughput (Gbps)
 Raw
58
76
 Production1
23
28
VPN AES-128 Throughput (Gbps)
10.8
15.8
NGTP Throughput (Gbps)
 Production1
1.5
2.2
Concurrent Connections (M)2
2.5/7.5
5/10
Connections per Second (K)
145
160
Virtual Systems
VS Supported (Default/Max)
25/250
150/250
Hardware Specifications (Default/Max)
10/100/1000Base-T Ports
10/26
10/26
1000Base-F SFP Ports
0/12
0/12
10GBase-F-SFP+ Ports
2/12
2/12
40GBase-F SFP+ Ports
0/4
0/4
Memory
8/24
16/32
Storage
1x1TB/2x1TB
2x1TB
I/O Expansion Slots
3
3
Lights-Out-Management
Included
Included
Dimensions
Enclosure
2U
2U
Dimensions (standard wxdxh)
17.4 x 20.84 x 3.46 in.
Dimensions (metric wxdxh)
442 x 529 x 88 mm
Weight
14.3 kg (31.5 lbs.)
Environment
Operating Environment
0°C - 40°C at 5 - 95% relative humidity
Non-Operating Environment
(-20)°C - 70°C at 5 - 95% relative humidity
Power
Dual, Hot-Swap Power Supplies
Included
Power Input
90 - 264VAC (47-63HZ)
Single Power Supply Rating
600W
Power Consumption (Max)
297W
Certifications
Safety
UL60950-1, CB IEC60950-1, CE LVD EN60950-1/TUV
Emissions
CE, FCC, VCCI, RCM/C-Tick
Environmental
RoHS II, *REACH, *ISO14001
1 assumes maximum production throughput with real-world traffic blend, a typical rule-base size, NAT and logging enabled and the most secure threat prevention protection
2 performance measured with default/maximum memory
Software Specifications
Software Blade
NGTP
NGTX
Firewall
Identity Awareness
IPSec VPN
Advanced Networking & Clustering
Mobile Access 1
IPS
Application Control
URL Filtering
Antivirus
Anti-Bot
Anti-Spam & Email Security
Threat Extraction
*
Threat Emulation
*
DLP
*
*
Management Blades
Network Policy Management
Logging and Status
SmartEvent
*
*
SmartWorkflow
*
*
Monitoring
*
*
Management Portal
*
*
User Directory
*
*
SmartProvisioning
*
*
SmartReporter
*
*
Endpoint Policy Management
*
*
Compliance
*
*
NGTP  = Next Generation Threat Prevention; NGTX  = SandBlast Threat Prevention;
- Included
* - Optional
1 Five users are included in default package
Pricing Notes:
Pricing and product availability subject to change without notice.
Check Point Products
Next Generation Threat Prevention Package
Next Generation Threat Prevention Package for 1 year for 15400 Appliance
Next Generation Threat Prevention Package for 2 years for 15400 Appliance
Next Generation Threat Prevention Package for 3 years for 15400 Appliance
Next Generation Threat Prevention & SandBlast™ Package
Next Generation Threat Prevention & SandBlast™ Package for 1 year for 15400 Appliance
Next Generation Threat Prevention & SandBlast™ Package for 2 years for 15400 Appliance
Next Generation Threat Prevention & SandBlast™ Package for 3 years for 15400 Appliance
Next Generation Firewall Package
Next Generation Firewall Package for 1 year for 15400 Appliance
#CPSB-NGFW-15400-1Y
Our Price: $10,980.00
Next Generation Firewall Package for 2 year for 15400 Appliance
Next Generation Firewall Package for 3 year for 15400 Appliance