Check Point 1570R Quantum Rugged Security Gateway

Secure. Rugged. Simple.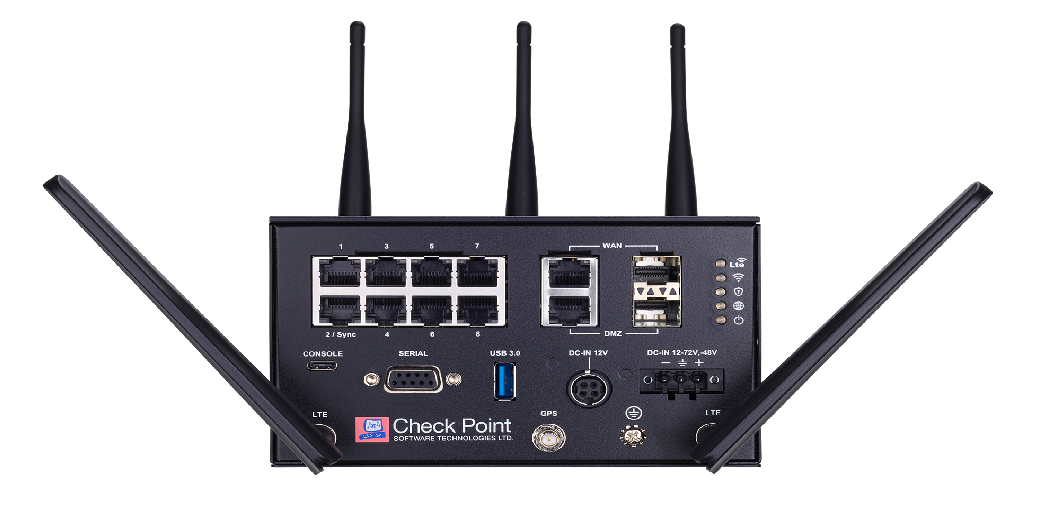 Check Point Products
Checkpoint 1570 Rugged Appliance
1570R Ruggedized Next Generation Appliance with industrial AC power Supply
#CPAP-SG1570R-SNBT-AC
List Price:
$2,510.00
Our Price: $2,085.06
1570R Ruggedized Next Generation Appliance with DC power
#CPAP-SG1570R-SNBT-DC
List Price:
$2,290.00
Our Price: $1,902.30
1570R certified for maritime environments, with DC power
#CPAP-SG1570R-SNBT-MRT-DC
List Price:
$2,290.00
Our Price: $1,902.30
1570R Wireless LTE Ruggedized Next Generation Appliance with industrial AC power supply (USA, Canada)
#CPAP-SG1570RWLTE-US-SNBT-AC
List Price:
$2,870.00
Our Price: $2,384.11
1570R Ruggedized Next Generation Appliance with DC power (USA, Canada)
#CPAP-SG1570RWLTE-US-SNBT-DC
List Price:
$2,630.00
Our Price: $2,184.74
Click here to jump to more pricing!
Overview:
Check Point Quantum Rugged appliances ensure industrial sites, manufacturing floors and mobile fleets are connected and secure. The solid-state design of the 1570R operates in temperatures ranging from minus 40° C to 75° C, making it ideal for securing any industrial application — power and manufacturing plants, oil and gas facilities, maritime fleets, building management systems, and more. Connect your field devices to the 1570R via an 8 port LAN switch or Wi-Fi and in turn connect your 1570R to OT management networks via 1 GbE copper or fiber WAN port or a highly available dual SIM LTE modem. The Check Point NGFW in the 1570R ensures the connection is secure.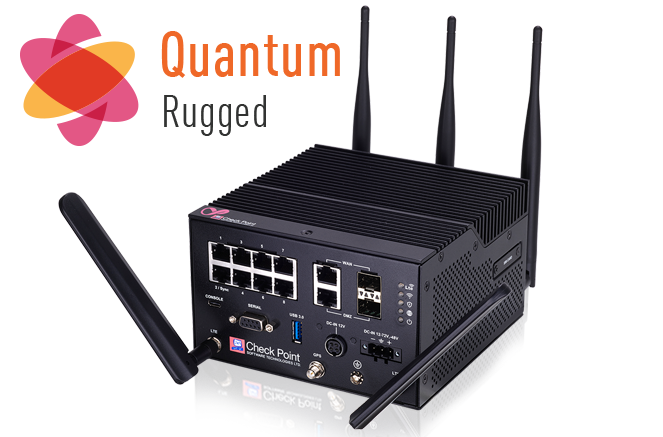 ---

Secure
400 Mbps Threat Prevention
Segment IT-OT boundaries
Virtual patching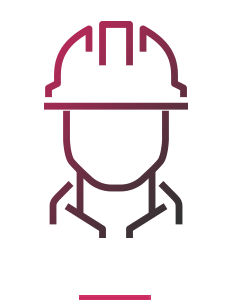 Built for OT
Secure ICS/SCADA networks
1400 SCADA protocols & commands
Unified OT and IT management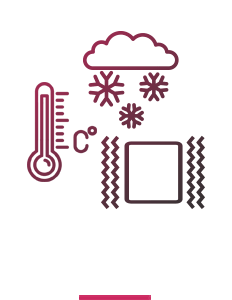 Rugged
Solid state for harsh conditions Certified
for Industrial and Maritime Wired, Wi-Fi,
3G/4G/LTE,Dual-SIM
Features:
Secure Scada and ICS Environments
Firewall (NGFW) secures Critical Infrastructure and Industrial Control Systems (ICS) without impacting operations. Our NGFWs identify and secure over 70 standard and proprietary SCADA (Supervisory Control and Data Acquisition) and ICS protocols. This includes the most popular protocols used in Utilities and Energy sectors, Manufacturing sectors, Building Management Systems and IoT (Internet of Things) devices.
Rugged Form Factor
The rugged solid-state form factor enables the 1570R to operate in a temperature range of -40C to +75C, making it ideal for deployment in harsh environments. The 1570R is certified for the industrial specifications IEEE 1613 and IEC 61850-3 for heat, vibration, and immunity to electromagnetic interference (EMI). In addition, the 1570R is certified for maritime operation per IEC-60945 and IACS E10 and complies with DNV-GL-CG-0339.
Network Reliability
The 1570R Next Generation Firewall feature set ensures your remote sites stay connected and secure. Deploy the 1570R in Layer 3 routed mode or in Layer 2 bridge mode. Set up site-to-site VPN and client-to-site VPNs to protect data in transit and restrict access to designated personnel. Finally the dynamic routing suite enables the 1570R to fit seamlessly into existing large scale networks.
Highly Available Hardware
The small desktop form factor 1570R mounts on walls or on DIN rails from the back or bottom. Connecting redundant power supplies is supported, ensuring continuous operation in case one power source fails. For added redundancy, two 1570R firewalls can be deployed in a High Availability cluster. The dual SIM LTE modem ensures the 1570R stays connected to operational management networks.
---
Advanced security, uncompromising performance
The Check Point 1570R is the rugged member of the 1500 Security Appliance family that delivers enterprise-grade security in a series of simple and affordable, all-in-one security gateways to protect branch office employees, networks and data from cybertheft. These security appliances include a comprehensive security suite and the latest R80 software for SMB appliances.
Comprehensive Protection
Next Generation Firewall
Site-to-Site VPN
Remote Access VPN
Application Control and Web Filtering
IoT Device Recognition
Intrusion Prevention
Antivirus
Anti-Bot
SandBlast Threat Emulation (sandboxing)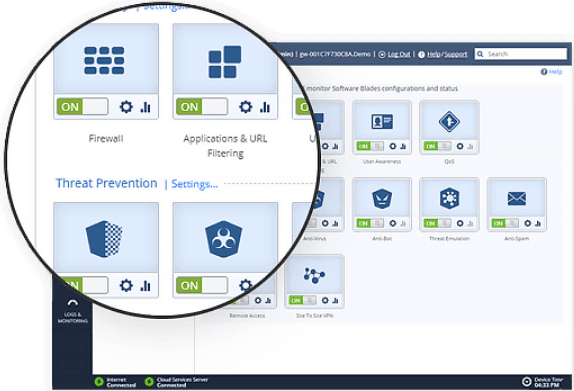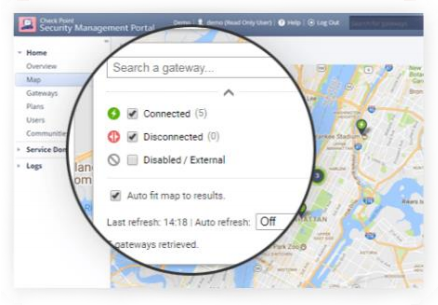 Zero-touch Deployment, Cloud Management
An intuitive web-based user interface, enables managed service providers to provision security efficiently for small businesses. In addition cloud-hosted Security Management Portal scales to manage over 10,000 Check Point Small Business Appliances. End users can leave security to a managed service provider (MSP) so they can focus on growing their own business.
---
IT/OT Network Segmentation
Check Point Next-Generation Firewalls provide boundary protection between IT and OT networks and microsegmentation among product lines and departments on the shop floor. With granular visibility into over 1,400 SCADA protocols and commands, these firewalls provide access control throughout the entire OT environment.
Virtual Patching
Protect unpatched ICS systems from known exploits. Automatically activate security protections against known CVEs by installing the appropriate IPS signatures on the gateways. This allows effective protection against unpatched systems or systems running on legacy operating systems and software; without disrupting critical processes and business operations.
Specifications: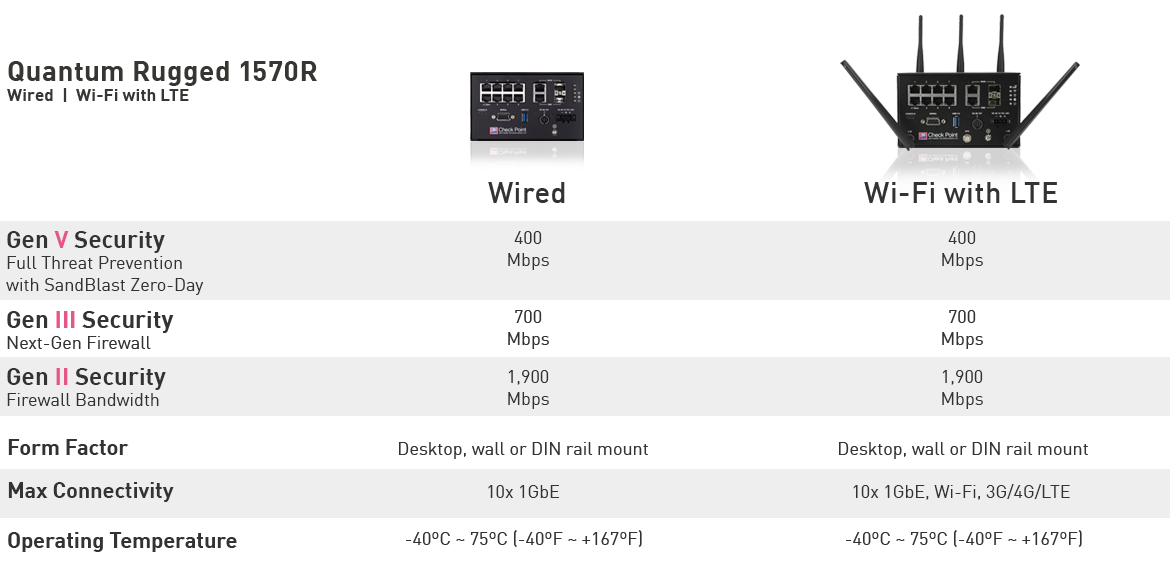 Enterprise Testing Conditions
Threat Prevention (Mbps)1
400
Next Generation Firewall2
700
IPS Throughput (Mbps)
770
Firewall Throughput (Mbps)
1,900
RFC 3511, 2544, 2647, 1242 Performance (LAB)
Firewall 1518 Byte UDP Packets (Mbps)
4,000
VPN AES-128 Throughput(Mbps)
1,100
Connections per Second
13,500
Concurennt Connections
500,000
Software
Security
Firewall, VPN, User Awareness, QoS, Application Control, URL Filtering, IPS, Anti-Bot, Antivirus and SandBlast Threat Emulation (sandboxing)
Unicast, Multicast Routing and Clustering
OSPFv2, BGPv4 and 4++, RIP, PIM (SM, DM, SSM), IGMP, ClusterXL High Availability
IPv6
local network and internet connections, dual stack tunneling IPv4 over IPv6 networks, prefix delegation
Mobile Access License (Users)
200 remote SNX or Mobile VPN client users
Protocols
Over 70 protocols, including the most popular in the industry: Modbus, Bacnet, CIP, S7, IEC-104, DNP3 and many more
Hardware
WAN Port
1x 10/100/1000Base-T RJ-45 / 1x 1000BaseF SFP port (transceiver not included)
DMZ Port
1x 10/100/1000Base-T RJ-45 / 1x 1000BaseF SFP port (transceiver not included)
LAN Port
8x 10/100/1000Base-T RJ-45 ports
Wi-Fi (optional)
802.11 n/ac MIMO 3x3
Radio Band (association rate)
One radio band non-concurrent: 2.4GHz (max 450 Mbps) or 5GHz (max 1,300 Mbps)
3/4G/LTE (optional)
3/4G/LTE Embedded modem, CAT6 with Main and Auxiliary antennas
SIM (optional)
Dual SIM (Nano and Micro)
Console Port
1x USB-C
USB Port
1x USB 3.0
SD Card Slot
Micro-SD slot
Serial Port
1x DB9 female connector, supports RS232 serial protocols, (RS422, R485 ready
Dimensions
Enclosure
Desktop, wall mount, DIN rail (bottom and back mount options)
Dimensions (W x D x H)
150 x 150 x 90 mm, 5.9 x 5.9 x 3.5 in.
Weight
1.8 kg (3.0 lbs.)
Environment
Operating
-40ºC ~ 75ºC (-40ºF ~ +167ºF)
Storage
-45ºC ~ 85ºC, (-49ºF ~ 185ºF), 5~95%, non-condensing
Power Requirements
Power Redundancy
Supported
Power Adapter AC Input
110 – 240VAC, 50 – 60 Hz, AC socket IEC 320-C14 Type
Power Adapter Options
12V/3.3A 40W commercial (0º ~ 40ºC, 32º ~ 104ºF) power adapter
or 12V/10A 120W industrial grade (-40º ~ 70ºC, -40º ~ 158ºF) power adapter
DC Input (3-pin terminal)
Nominal 12 to 60VDC, -48VDC, Maximum Range 10.2VDC to 72VDC
Power Consumption (Max)
Wired: 25.1W, Wi-Fi-LTE: 30.7W
Heat Dissipation
Wired: 85.6 BTU/hr., Wi-Fi-LTE: 104.8 BTU/hr
MTBF
DC Input (@ 25ºC)
268.8 years
AC Input, Industrial-grade (@ 25ºC)
30.2 years
1. Includes Firewall, Application Control, URL Filtering, IPS, Antivirus, Anti-Bot, SandBlast Zero-Day Protection 2. Includes Firewall, Application Control, IPS
Pricing Notes:
Pricing and product availability subject to change without notice.
Check Point Products
Checkpoint 1570 Rugged Appliance
1570R Ruggedized Next Generation Appliance with industrial AC power Supply
#CPAP-SG1570R-SNBT-AC
List Price:
$2,510.00
Our Price: $2,085.06
1570R Ruggedized Next Generation Appliance with DC power
#CPAP-SG1570R-SNBT-DC
List Price:
$2,290.00
Our Price: $1,902.30
1570R certified for maritime environments, with DC power
#CPAP-SG1570R-SNBT-MRT-DC
List Price:
$2,290.00
Our Price: $1,902.30
1570R Wireless LTE Ruggedized Next Generation Appliance with industrial AC power supply (USA, Canada)
#CPAP-SG1570RWLTE-US-SNBT-AC
List Price:
$2,870.00
Our Price: $2,384.11
1570R Ruggedized Next Generation Appliance with DC power (USA, Canada)
#CPAP-SG1570RWLTE-US-SNBT-DC
List Price:
$2,630.00
Our Price: $2,184.74
Next Generation Firewall Package
Next Generation Firewall Package for additional 1 year for 1570R Base Appliance
#CPSB-NGFW-1570R-1Y
Our Price: $685.00
Next Generation Firewall Package for additional 2 years for 1570R Base Appliance
#CPSB-NGFW-1570R-2Y
Our Price: $1,370.00
Next Generation Firewall Package for additional 3 years for 1570R Base Appliance
#CPSB-NGFW-1570R-3Y
Our Price: $2,070.00
Next Generation Firewall Package for additional 1 year for 1570RWLTE Base Appliance
#CPSB-NGFW-1570RWLTE-1Y
Our Price: $685.00
Next Generation Firewall Package for additional 2 years for 1570RWLTE Base Appliance
#CPSB-NGFW-1570RWLTE-2Y
Our Price: $1,370.00
Next Generation Firewall Package for additional 3 years for 1570RWLTE Base Appliance
#CPSB-NGFW-1570RWLTE-3Y
Our Price: $2,070.00
Next Generation Threat Prevention
Next Generation Threat Prevention for additional 1 year for 1570R Base Appliance
#CPSB-NGTP-1570R-1Y
Our Price: $915.00
Next Generation Threat Prevention for additional 2 years for 1570R Base Appliance
#CPSB-NGTP-1570R-2Y
Our Price: $1,830.00
Next Generation Threat Prevention for additional 3 years for 1570R Base Appliance
#CPSB-NGTP-1570R-3Y
Our Price: $2,750.00
Next Generation Threat Prevention for additional 1 year for 1570RWLTE Base Appliance
#CPSB-NGTP-1570RWLTE-1Y
Our Price: $915.00
Next Generation Threat Prevention for additional 2 years for 1570RWLTE Base Appliance
#CPSB-NGTP-1570RWLTE-2Y
Our Price: $1,830.00
Next Generation Threat Prevention for additional 3 years for 1570RWLTE Base Appliance
#CPSB-NGTP-1570RWLTE-3Y
Our Price: $2,750.00
Next Generation Threat Prevention and Sandblast
Next Generation Threat Prevention and Sandblast for additional 1 year for 1570R Base Appliance
#CPSB-SNBT-1570R-1Y
Our Price: $1,140.00
Next Generation Threat Prevention and Sandblast for additional 2 years for 1570R Base Appliance
#CPSB-SNBT-1570R-2Y
Our Price: $2,290.00
Next Generation Threat Prevention and Sandblast for additional 3 years for 1570R Base Appliance
#CPSB-SNBT-1570R-3Y
Our Price: $3,430.00
Next Generation Threat Prevention and Sandblast for additional 1 year for 1570RWLTE Base Appliance
#CPSB-SNBT-1570RWLTE-1Y
Our Price: $1,140.00
Next Generation Threat Prevention and Sandblast for additional 2 years for 1570RWLTE Base Appliance
#CPSB-SNBT-1570RWLTE-2Y
Our Price: $2,290.00
Next Generation Threat Prevention and Sandblast for additional 3 years for 1570RWLTE Base Appliance
#CPSB-SNBT-1570RWLTE-3Y
Our Price: $3,430.00