Check Point Quantum 28600 Hyperscale Security Gateway

Data Center and High-End Enterprise Security Gateways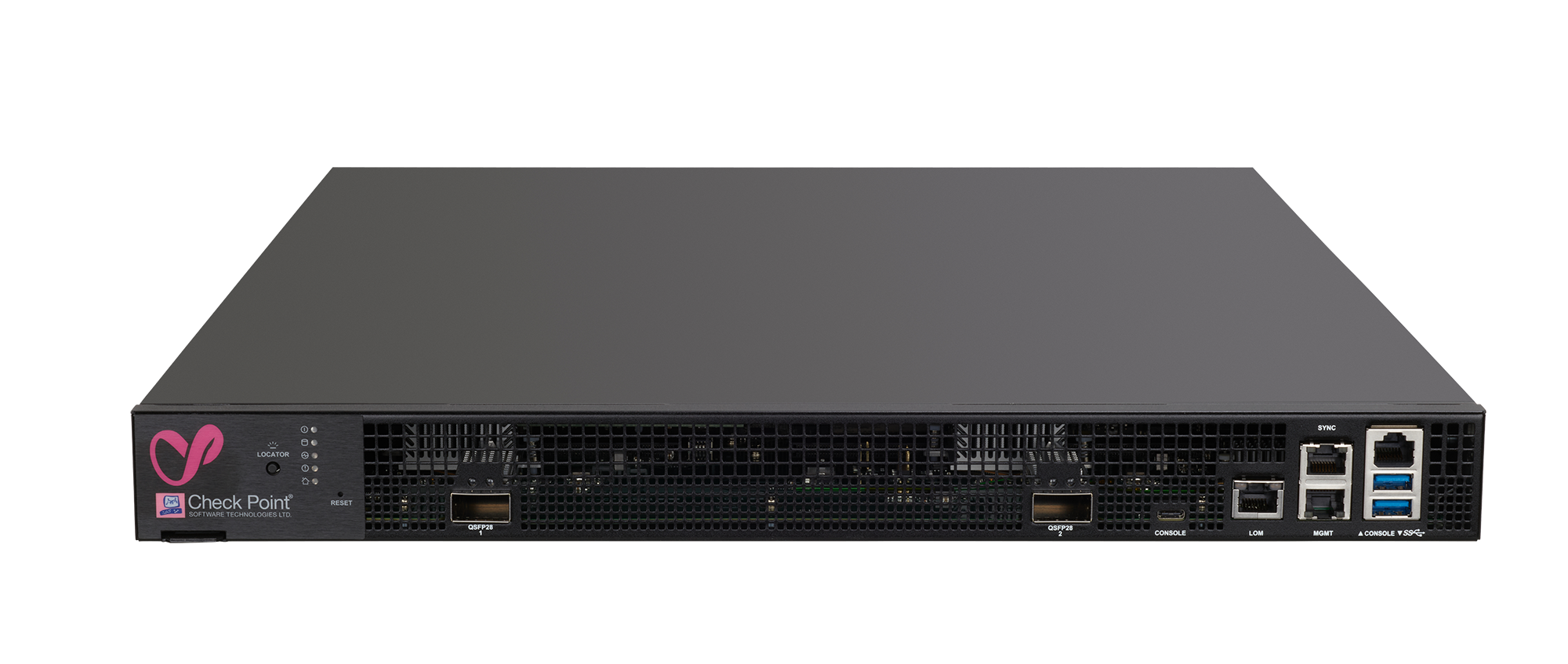 Check Point Products
Checkpoint Quantum 28600 Hyperscale Appliance

Check Point Quantum 28600 HyperScale Appliance with SandBlast subscription package for 1 year
#CPAP-SG28600-HS-SNBT
List Price: $220,000.00

Check Point Quantum 28600 HyperScale Appliance for Maestro including 2 100 GbE direct attach cables with SandBlast subscription package for 1 year
#CPAP-SG28600-HS-MHS-SNBT
List Price: $220,000.00

Maestro Solution with two 28600 HyperScale Security Gateway Appliances with SandBlast subscription package for 1 year and one Orchestrator (MHO-170)
#CPAP-SG28602-HS-MHS-SNBT
List Price:
$455,000.00
Our Price: $366,275.00

Maestro Solution with three 28600 HyperScale Security Gateway Appliances with SandBlast subscription package for 1 year and one Orchestrator (MHO-170)
#CPAP-SG28603-HS-MHS-SNBT
List Price:
$675,000.00
Our Price: $543,375.00
Overview:
Protecting the modern data center against GenV attacks requires high performance scalable security gateways that go beyond the NGFW to deliver the best threat prevention and optimization for hybrid cloud environments. Check Point 26000 and 28000 Quantum Security Gateways include award-winning SandBlast Network threat prevention, telco-grade reliability, and hyperscale threat prevention performance up to 1.5 Tera bps.
Check Point Maestro brings scale, agility and elasticity of the cloud on premise with efficient N+1 clustering based on Check Point HyperSync technology, maximizing the capabilities of your existing security gateways. Create your own virtualized private-cloud premise by stacking multiple Check Point security gateways together. Group them by security feature set, policy or the assets they protect and further virtualize them with virtual systems technology. With the Maestro Hyperscale Orchestrator and 28600 Hyperscale security gateways, businesses of all sizes can have cloud-level security on premise.
Quantum 26000, 28000 Security Gateways: Best Security, Ultimate Hardware
For ultimate data center security and scalability, the 26000 and 28000 models deliver 60 security services with telco-grade performance including 30 Gbps of threat prevention. Telco-grade hardware reliability and expandability includes 100% SSDs, the highest port density in the industry, modular expansion up to 16 x 100 GbE, green friendly with 2.5x the power efficiency than other vendors and unified policy management across the datacenter and the hybrid cloud.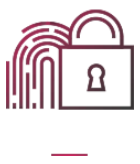 Always Protected Against GenV Attacks
Highest caliber prevention with unified security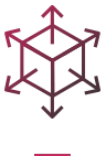 Security at Hyperscale
On-demand expansion with Hyperscalability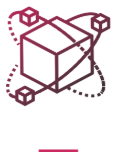 Efficient Operations
Cut operation management time by up to 80%
Introducing New Quantum Security Gateways
All Quantum Security Gateways come with Check Point's award-winning SandBlast Network right out of the box. Check Point protects enterprises from the 5th Generation of sophisticated multi-vector cyber attacks versus 3rd Generation of protection provided by other firewalls.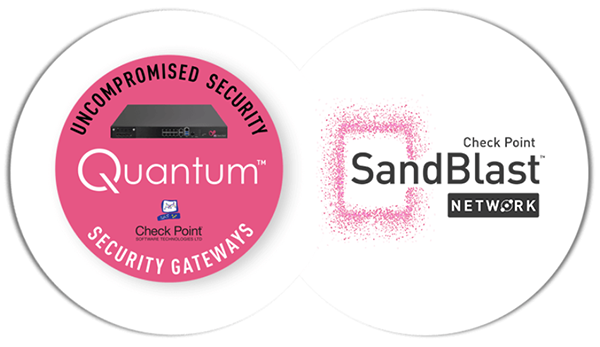 Features: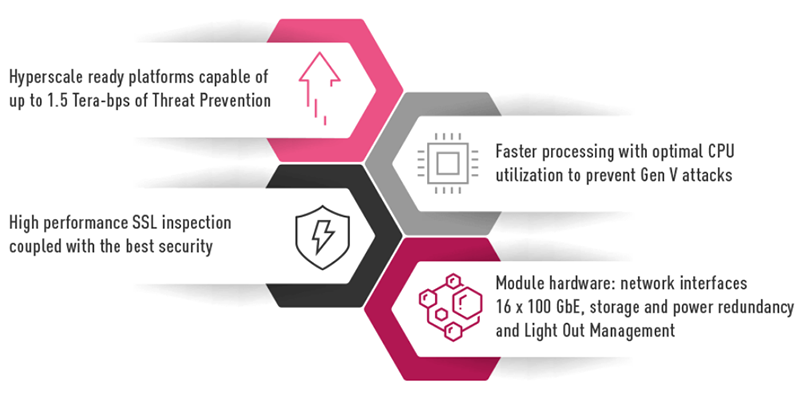 Hyperscale Security System
With Maestro, you can start with two gateways and then can grow to up to 52 gateways. For example, when you start with 30 Gbps using two 28600HS gateways you can finish with a 1.5 Tbps security solution that supports over 500 million concurrent connections. Simply by using Check Point Maestro.
Hyperscale Orchestrator Connections
When a Security Group is created, an IP address is created for a Single Management Object connection to the security management server. Easily create and assign IP addresses to the internal and external network interfaces. These uplinks are the visible components of the Maestro security solution.
Fully Operational within Minutes
When we add a gateway to the system, it gets all the configurations, the policy, even the software version, updated and aligned with the existing deployment, ready to go within 6 minutes.
Maestro Traffic Distribution
HyperSync tracks the Active/Standby/Backup state of group members. Sync traffic is limited to only the Active and Standby members handling the connection.
Cost-Efficient N+1 Deployments
Now businesses of all sizes can enjoy cloud-level resiliency and telco-grade technology using the efficient Maestro N+1 clustering design.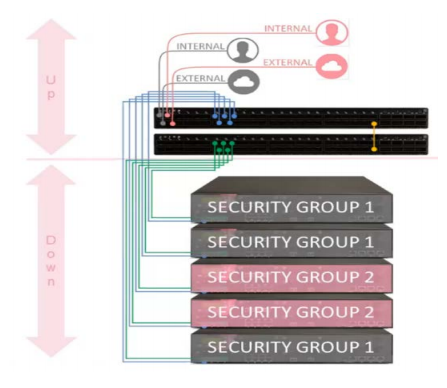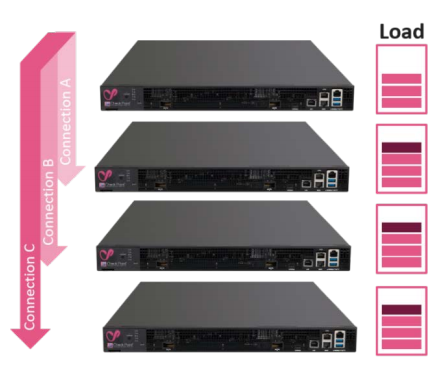 Specifications: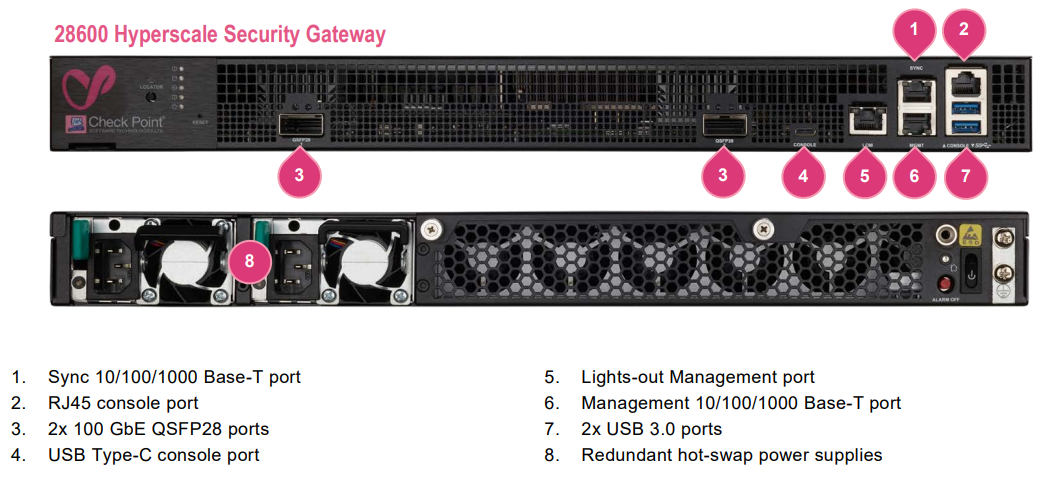 Enterprise Testing Conditions
Threat Prevention1 (Gbps)
30
NGFW2 (Gbps)
51.5
IPS Throughput (Gbps)
52.2
Firewall Throughput (Gbps)
145
RFC 3511, 2544, 2647, 1242 Performance (LAB)
Firewall 1518B UDP (Gbps)
193
VPN AES-128 (Gbps)
44
Connections per Second
590,000
Concurennt Connections3
49M
Additional Features
Highlights

2x 100 GbE QSFP28 ports
2x CPUs, 36 physical cores, 72 virtual cores
1x 480 GB storage
2x AC power supplies
192 GB memory
Virtual Systems: up to 250

Content Security
First Time Prevention Capabilities

CPU-level, OS-level and static file analysis
File disarm and reconstruction via Threat Extraction
Average emulation time for unknown files that require full sandbox evaluation is under 100 seconds
Maximal file size for Emulation is 100 MB
Emulation OS Support: Windows XP, 7, 8.1, 10

Applications

Use 8,000+ pre-defined or customize your own applications
Accept, prevent, schedule, and apply traffic-shaping

Data Loss Prevention

Classify 700+ pre-defined data types
End user and data owner incident handling

Dynamic User-based Policy

Integrates with Microsoft AD, LDAP, RADIUS, Cisco pxGrid, Terminal Servers and with 3rd parties via a Web API
Enforce consistent policy for local and remote users on Windows, macOS, Linux, Android and Apple iOS platforms

Network
Network Connectivity

Total physical and virtual (VLAN) interfaces per appliance: 1024/4096 (single gateway/with virtual systems)
802.3ad passive and active link aggregation
Layer 2 (transparent) and Layer 3 (routing) mode

High Availability

Active/Active L2, Active/Passive L2 and L3
Session failover for routing change, device and link failure
ClusterXL or VRRP

IPv6
Unicast and Multicast Routing (see SK98226)

OSPFv2, BGP, RIP
Static routes, Multicast routes
Policy-based routing
PIM-SM, PIM-SSM, PIM-DM, IGMP v2, and v3

Power Requirements
Single Power Supply rating
AC: 850W
AC power input
100 to 240V (47-63Hz), 40~-72VDC
Power consumption avg/max
AC341W/676W
Maximum thermal output AC
2306 BTU/hr
Dimensions
Enclosure
1RU
Dimensions (WxDxH)
17.4 x 24 x 1.73 in. (442 x 610 x 44mm)
Weight
28.7 lbs. (13 kg)
Environmental Conditions
Operating
0° to 40°C, humidity 5% to 95%
Storage
–20° to 70°C, humidity 5% to 95% at 60°C
Certifications
Safety
UL, CB, CE, TUV GS
Emissions
FCC, CE, VCCI, RCM/C-Tick
Environmental
RoHS, WEEE, REACH, ISO14001
1 1. Includes Firewall, Application Control, URL Filtering, IPS, Antivirus, Anti-Bot and SandBlast Zero-Day Protection with logging enabled.
22. Includes Firewall, Application Control and IPS with logging enabled.

Software Package Comparison:
| |  NGFW  |  NGTP  |  SNBT  |
| --- | --- | --- | --- |
| Security Appliance (wired, Wi-Fi or Wi-Fi with xDSL or embedded LTE) | ✓ | ✓ | ✓ |
| Premium Support (24x7 response, software upgrades and more) | ✓ | ✓ | ✓ |
| PRO Support option (proactive health monitoring service) | ✓ | ✓ | ✓ |
| Firewall | ✓ | ✓ | ✓ |
| VPN | ✓ | ✓ | ✓ |
| Mobile Access (includes 100 concurrent users in the 1530, 1550, or 200 in the 1570, 1590) | ✓ | ✓ | ✓ |
| Application Control | ✓ | ✓ | ✓ |
| Intrusion Prevention System | ✓ | ✓ | ✓ |
| URL Filtering | | ✓ | ✓ |
| Antivirus and Anti-Bot | | ✓ | ✓ |
| Treat Emulation (sandboxing) | | | ✓ |
Compare: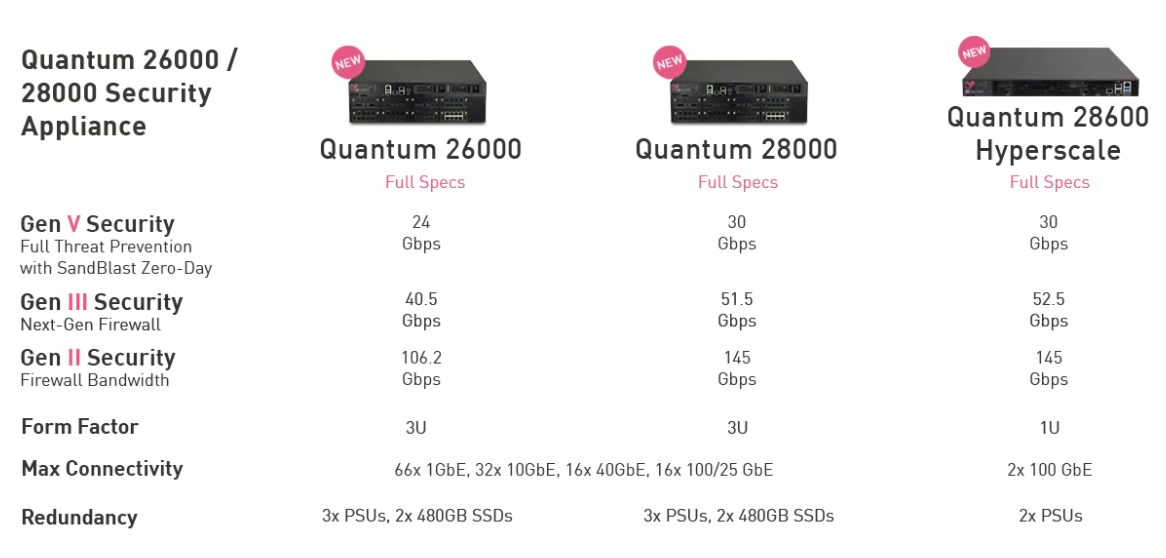 Check Point Products
Checkpoint Quantum 28600 Hyperscale Appliance

Check Point Quantum 28600 HyperScale Appliance with SandBlast subscription package for 1 year
#CPAP-SG28600-HS-SNBT
List Price: $220,000.00

Check Point Quantum 28600 HyperScale Appliance for Maestro including 2 100 GbE direct attach cables with SandBlast subscription package for 1 year
#CPAP-SG28600-HS-MHS-SNBT
List Price: $220,000.00

Maestro Solution with two 28600 HyperScale Security Gateway Appliances with SandBlast subscription package for 1 year and one Orchestrator (MHO-170)
#CPAP-SG28602-HS-MHS-SNBT
List Price:
$455,000.00
Our Price: $366,275.00

Maestro Solution with three 28600 HyperScale Security Gateway Appliances with SandBlast subscription package for 1 year and one Orchestrator (MHO-170)
#CPAP-SG28603-HS-MHS-SNBT
List Price:
$675,000.00
Our Price: $543,375.00