Check Point Virtual Systems

Consolidate and simplify security for private clouds while delivering a lower total cost of ownership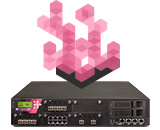 Check Point Virtual Systems taps the power of virtualization to consolidate and simplify security for private clouds while delivering a lower total cost of ownership. It enables customized security against evolving network threats with the extensible Software Blade Architecture. Virtual Systems is supported on Check Point Appliances, including the 61000 Security System as well as open servers.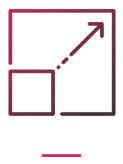 Scalable Security
Scale with up to 13 clustered gateways with Virtual System Load Sharing (VSLS) technology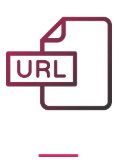 Separate Security Domains
Each Virtual System has a separate policy and security feature set that is completely customizable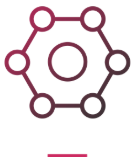 Security Consolidation
Deploy separate virtual systems on one physical security appliance
Benefits
Simplify and consolidate network security with Virtual Systems
Add Virtual Systems to any gateway or leverage pre-configured Virtual System Appliances to secure multiple network segments
Simplify enterprise-wide policy by creating tailored policies for each Virtual System
Resource monitoring for each Virtual System; easily add, provision and upgrade without downtime
Deploy any Software Blades on any virtual system for customized protection
Advanced protections now include: Firewall, VPN, IPS, Application Control, URL Filtering, Antivirus, Anti-Bot, Identity Awareness and Mobile Access
Flexibility to enable Software Blades uniquely for each Virtual System with customized protections
Enable separation of IT duties with dedicated Virtual Systems for Web Security, Threat Prevention, Firewall and Remote Access
Boost performance using the latest Check Point technologies
Over eight times more concurrent connections with 64-Bit GAiA OS
Increased throughput by utilizing multi-core processors with CoreXL technology
Cluster up to eight gateways using patented VSLS technology for unmatched scalability
Features
Security Consolidation
For years, Check Point's Virtual Systems technology has been providing value and protection for enterprises and service providers. This proven technology enables organizations to consolidate up to 250 gateways into a hardware platform providing savings on both capital equipment investments and ongoing support and maintenance. The streamlined management of the virtualized gateways further improves the operational efficiency of a resource-challenged IT department, bringing the needed simplicity to network security.
Flexible Software Blade Security
Supporting the latest Check Point Software Blade Architecture on every Virtual System, this solution delivers comprehensive and customized protection to multiple networks or virtual LANs (VLANs) within complex network infrastructures. Supporting Software Blades including Firewall, VPN, Intrusion Prevention (IPS), Identity Awareness, Application Control, URL Filtering, Antivirus and Anti-bot, administrators have the flexibility to configure any Software Blades with any security policy to any Virtual System.
Customizable Security Policies per Virtual System
The ability to tailor security policies for each Virtual System enable administrators to break down large complex network security policies into smaller more granular and more manageable policies. Customizing security policy base on business requirements minimize the complexity and create better security practice to meet the business needs.
Simple Deployment and Streamlined Central Management
Easily deploy Virtual Systems with pre-configured appliances or upgrading existing gateways using One-Click Conversion, effectively manage these Virtual Systems with simplified and central management using Check Point Security Management and Multi-Domain Security Management.
One-Click Conversion
Enabling Virtual Systems from a physical system is simple and fast with a single click to launch the Virtual System Conversion Wizard.
Centralized Management and Provisioning


Integration with Check Point Security Management and Multi-Domain Security Management solutions
One-click conversion with Virtual SystemsWizard
Simple provisioning using the creation templates
Separate per virtual system management and data segregation enable cloud-based security-as-a-service offerings
High Performance Security
Combining the latest security solutions with the patented CoreXL technology and the 64-bit GAiA OS, performance for virtualized security deployments is greatly enhanced. Up to eight times more concurrent connection capacity and the multi-gigabit-per-second performance for firewall and IPS throughputs are just a few examples of the outstanding performance the solution will deliver. The new Check Point Virtual Systems are designed to meet the requirements for the most demanding network environments.
Linear Scalability
Today's networks require flexibility and expandability to support the fast-evolving business needs. To meet this demanding business environment, Virtual Systems can be deployed on multiple gateways using Check Point' high-performance technologies, ensuring secure, resilient, multi-gigabit throughput. Virtual Systems leverage the following features and technologies to maximize performance, capacity and system scalability:
Virtual System Load Sharing (VSLS) distributes traffic load within a cluster, providing the ability to distribute virtual systems across multiple cluster members. Additional cluster members effectively share the virtual system traffic loads within the cluster, providing improved throughputs, connection capacity, high availability, simplified management and linear scalability
Resource Control allows administrators to manage the processing load by guaranteeing that each virtual system will receive only the memory and CPU allocation it needs to deliver its functions. Resources not needed by one virtual system are automatically made available to other virtual systems. Administrators can also limit the CPU resource available to a lower-priority virtual system and assign more capacity to mission-critical virtual systems.
Integrated Virtual Routers and Switches
Simplify deployment, configuration and save costs of external network routers and switches. The integrated virtual routers and switches direct inter-Virtual System traffics to their intended destinations with higher efficiency.
Per Virtual System Resource Utilization Monitoring
Need to understand how your Virtual Systems are used to better plan your security resources, or want to create billable customer services based on their usage? Granular resource monitoring of CPU and memory for each virtual system gives you the necessary insights to effectively plan for your network security resources, or to provide usage-based services to your customers.