Checkpoint Infinity Vision

Vision Unified Security Management

Overview
Why is Infinity Important?
Achieve the gold standard in cyber security with the unified security management delivered by Infinity-Vision. Ensure that your organization can prevent breaches and manage your entire security environment with unified policies from a single pane of glass across networks, cloud, mobile, endpoint and IoT device. Detect, respond, and shut down attacks faster with 99.9% precision using the same SOC tools developed by Check Point Research for their cyber attack investigations.
Infinity-Vision Powers the Infinity Architecture
Infinity-Vision is the unified management platform for Check Point Infinity, the first modern, consolidated cyber security architecture built to prevent today's most sophisticated attacks across networks, cloud, and endpoints, mobile and IoT devices. Powered by the world's largest threat intelligence network, Infinity-Vision centrally manages the Infinity architecture to mitigate attacks effectively in real time, solves security gaps, reduces risk, and maximizes total cost of ownership.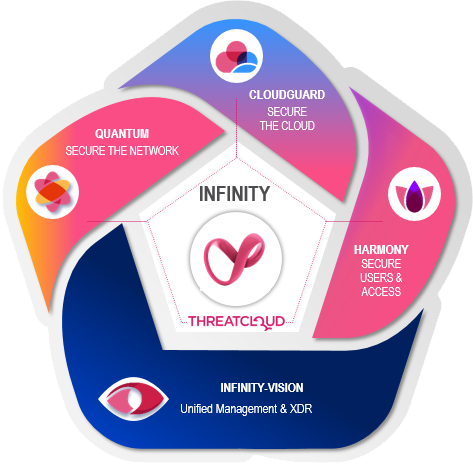 Key Benefits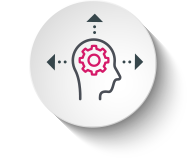 Threat Intelligence Powers Infinity
Real-time threat intelligence enriched by AI engines detects and blocks thousands of attacks daily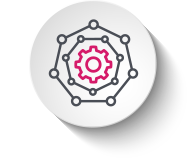 Unified Management Across Environments
Centrally control policy management, monitoring and response for every attack surface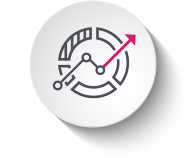 Achieve SOC Certainty
Expose and shut down attacks faster with 99.9% precision across your environment
Shared Threat Intelligence Powers Infinity-Vision
ThreatCloud translates threat intelligence data from hundreds of millions of sensors worldwide into proactive security protections across the Infinity architecture.
Unified Management Across Environments
Infinity-Vision consolidates management of multiple security layers, providing superior policy efficiency and enabling teams to manage the security of the entire enterprise through a single pane of glass.
---